As per the title ( i changed it) spread some good news that you may have witnessed or know about
John
It is a very respectful question.
I have enjoyed doing numerous things over my life to help another humans.
With out absolutely any disrespect to your question I had no desire to be a acknowledge then by any one or do I need to write it down now.

Larry

Thank you for putting this so eloquently @LarrySr . I was feeling the same, hard to say something.
But I gave someone a jump start a couple weeks ago…
I concur with Larry and cico. Actually typed out a response to say the same yesterday. I didn't post 'cause my eloquence is on the fritz.
Dred
That was funny

Larry
That's the beauty of brother @Dred. If I've learned anything being on these boards it's that M-Dub will be honest, tell you what he thinks and likely won't candy coat it on delivery. Those are attributes to appreciate in another human, whether you agree with them or not.
Staying on topic, I'd say most of the things I've done for others would be considered small, but sometimes the little things matter. Given my current work/living situ, I'm not around other people that often so there aren't really any opportunities. I do help my 80-something neighbor lady out quite a bit, even though we definitely don't see eye to eye on firearms or politics.
They don't know this… but when other drivers cut me off in my car I don't shoot them. Pretty proud of that.
Heck Texas, a lot of us would be very grateful if you shoot them


Then we don't get cut off. It's a win win.

Larry

Visit MD, I can guarantee you a target rich environment. This state has some of the nicest MVA facilities and yet the most clueless drivers I think I've ever seen. These asshats can't even figure out a single lane traffic circle…seriously…

I believe that's what attracted John Lee Malvo. Too soon? Hope I didn't offend anyone.
I think the only offense is that they've since reduced his sentence and given him the possibility of parole. Personally, I think they should've snuffed him like they did his cohort. But that's not the topic here…
MD drivers really are $hit, but DC drivers are worse. They drive like they own the road, and do so quite poorly…
My parents brought me up to help anyone in need as I am able. When I was a little kid, we'd get folks, usually men, coming to the back door. My grandmother watched me in those days. She'd open the door and there would be a poorly dressed man standing on the porch with his hat in his hand. "Excuse me ma'am, but I was wondering if you could spare a crust of bread or something. I haven't eaten in a while." Gram would bring the guy into the kitchen, have him wash up in the sink while she set out a meal of at least three courses. When he finished, he'd leave with a bag of sandwiches. I never knew her to turn anyone away, regardless of color or accent.
She wouldn't talk about what she had done to anyone. She said that every time you did a good deed, you earned a star in your heavenly crown, but when you told of what you did, you lost one. Her crown must look like a galaxy!
That being said, I help those I find along the way in any way I can in honor of my people who went before me. You will never hear those stories from me, though. It's not about the stars. It's because I feel it would dishonor my family to do so. What I do for my fellow man is between those people, God, and myself.
You speak the honest truth. I have lived up that way and I can identify them with a high degree of confidence when they sneak the flip onto my highways.
I do sorta give DC drivers a pass. There are NO highways in Washinhton, DC.
I thank you all for the replies, all i intended was for some good things that you did because the world is rather pants at the moment,i would like to ask that this topic be closed, as it seems it is:receiving what you didn't do responses seem to be the main responses,

though i see there isn't one response for I DID NOT VOTE FOR BIDEN in here.



No offence intended to any one especially the Biden supporter ( i assume there was only 1). Love you all though xxx
I dont think this thread needs to be deleted it just need to reworded or revamped. How about whats a good thing you seen someone else doing or a good thing you know someone else does. The problem i think with this thread is that if you do good deeds and help others its not post to be talked about. And seeking approval or acknowledgement for a good deed you do is a sin. But ill tell you about a great thing my aunt does and has done for as long as i remember. If shes in a grocery store and person inline behind her has just a couple little things she will give the cashier extra and tell them to use it to pay for that persons items.
How about what good deed have you witnessed someone doing. That would give credit to the act, not to those who arent seeking credit. Its a great concept here @John025 to show that decency exists, which is the main purpose for most good samaritans taking action.
Heres an example… but it doesnt hit until the end of the vid. (Its a great watch anyway, & i recommend watching from the beginning.)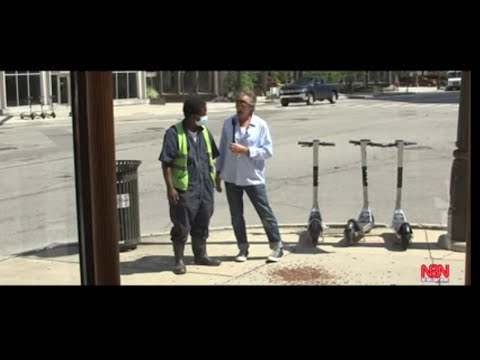 Im also not afraid to give Charlie LeDuff a plug, and highly advise you follow him. He is a NO BS champion of the people, here at home in Detroit (at the moment), and all around the world keeping leadership accountable and drilling through into the facts of things. He's not out for glory, just to " Fix the sh!t" and "Try and love one another" as his most popular tag lines go.
I changed it lets see if that is better
If I am at a gas station and see someone in an older beat up car tries to put $3 of fuel in… I walk up and insert my debit card and tell them to fill the tank. I have had people come to tears because on that particular day they needed help. ALWAYS pay it forward.
I travel for business. Whenever I see one of our young men and women in uniform waiting in line for a drink or a meal, I cover their meal for them. I remember being young and far away from home.
I was flying through Detroit one time and saw a group of 4 Marines, fresh out of boot camp, waiting for their connection. As I walked by, I struck up a conversation with one of them and stuffed $50 for him and his buddies to get a meal or a beer. That's what this Marine brotherhood is all about.
I was in a grocery line and there was a young Marine in his dress blues in the line behind me and he was buying beer for a family celebration. When he checked out, I siped my credit card and just said Semper Fi. Nothing more was needed to be said.