Not a question and I wasn't sure where to put this and didn't want to start a new thread but here it is
North Georgia backyard black bear video: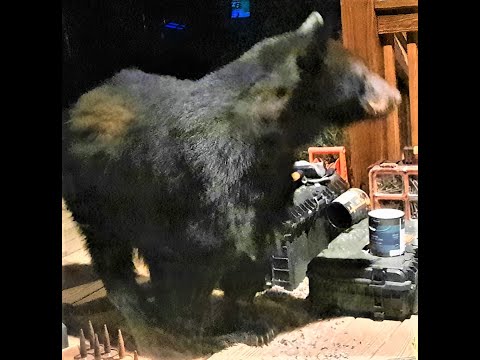 Blue Ridge GA is about 45 miles due west of here. This one looks to be a bit mangy (losing winter coat? It did hit 83 here today!) and not much trouble but he does seem to show up regularly. Then she also mentions a 700 pounder that's been seen on the ridge above her house! That's one big enough to put a hurtin' on ya if it wanted!
Just to give you an idea how big a 700 pound bear is in these parts, this 673 whopper daddy was harvested by an archery hunter (YIKES! He got way bigger cojones than me!) back in 2017 about 30 miles due east of here:
And folks wonder why I tote even when I walk down to the mailbox…
@SnuffySmiff Yikes indeed!
Around the time I was born (1965) or a little before, my dad and one of his friends who used to have hounds, used to archery hunt for bears. I don't know if they ever actually got one or not.
The only story I ever heard, was about when they lost/couldn't find one of the dogs, and finally left it.
A few days later, they got a call from the Hailey, Idaho PD. Someone had found the hound, brought him in, and he was "incarcerated" at the city jail waiting for someone to come bail him out. LOL.
Are y'all wired into your local representatives?
I get a period email from the congresswoman.
Might not be any breaking news…
MORE STARTLING STATS ON THE BIDEN BORDER CRISIS
I wanted to share with you all more startling statistics about Biden's Border Crisis, courtesy of the House Homeland Security Committee, of which I am a member.
** Between February 19 – April 22, the Transportation Security Administration (TSA) assisted approximately 7,200 migrants at 10 border airports in document verification, allowing them to bypass standard government-issued photo ID requirements and board domestic flights, without confirmation of a negative COVID test being required.*
** Customs and Border Protection (CBP) is on track to encounter more than two million migrants crossing the U.S.–Mexico border by the end of this fiscal year – more than four times the number encountered in FY20.*
** Tens of millions have been wasted on suspension of wall system construction. The contracts suspended by the Biden Administration were not just for physical barriers, but also for technology, access roads, and associated infrastructure improvements*
Could a moderator divide this thread into separate Firearms, Agricultural, Home and Automotive threads? Maybe sub topics, Electrical & Mechanical?
@Slowest A moderator created this thread for the random stuff. I don't wanna step on his toes. If you feel like a certain topic is robust enough to have its own stand alone thread then you're more than welcome to create it

@Kona I was referring to the thread you created for gun projects…hyperlinked in my last post here.
@Slowest ah I gotcha. What I said still applies lol
So… now we can't talk about anything Pew Pew related here? I am confused. What happened to projects and builds?

@jeffing65 is a moderator? I thought he was just eye candy.

Boy… the shit Vodka forces you to write. I am going to switch to Brandy now.
Awwwww shot…the wife's calling me…

@Kona oh… thanks! Woke up and quickly took 20 pew pews using my Glock 43 and GSight trainer. Not bad for 6am, though I tripped over an empty bottle of Vodka in the hallway. Not sure how that got there.
I wish more folks here used a laser trainer system, it would be great to start a competition thread. Especially since ammo is sooooooo expensive now.
Id be game for a digital division in the monthly thread. Lets do it! Even if it isnt a sanctioned division, nothings stopping us from doing it for fun.
What type of laser system? I'm game but need to buy one.
Don't worry, ammo prices are coming down…


Tsk-tsk, Teximo promoting whatnot w/o providing a link to the vendor. <—

Depending on the gouger, maybe just the cost of one box of ammo.

@cico7 I have the GSight laser bullet and downloaded the app from Google Play. Free app but I upgraded to unlimited shots and the shot timer.
If you cannot find a GSight cartridge there are also similar laser bullets (do not mistakenly buy a bore sight) by Pink Rhino, Tactical Training, and CheapShot Tactical. All are $35 - $40 retail. They all work with the free GSight app. But as I said, for a couple of bucks you can upgrade.
I use a tripod with a cell phone adapter, because the app uses your cell phone to record the hits…
Or, you can just buy a complete setup…
Amazon LaserHIT Dry Fire Training Kit https://smile.amazon.com/dp/B083ZV1177/ref=cm_sw_r_u_apa_glt_fabc_P1QY65W42D8RCN3BXRKP?psc=1
Anyone subscribe to The EpochTimes?
I found this in my post mail box the other day. Originally thought it was some religious flyer.

Not affiliated in anyway. Initial reading seems like a decent news source. I might try one of the
trial subscriptions
…$1 for 8 weeks.
@TexasEskimo


That tripod looks familiar…