You're not kidding. I love that place.
Fiocchi is Italian made and from what I've heard/read, they have opened a plant here in the states.
Fiocchi was founded in 1876 in Lecco, Italy, and has been producing high-quality ammunition ever since. The tradition continues at Fiocchi's Ozark, Missouri and Little Rock, Arkansas facilities - right in the heart of America. Hundreds of hardworking Americans producing some of the highest quality shotshell, centerfire, and rimfire ammunition …
America's Ammunition Company…AAC
9mm ammo review: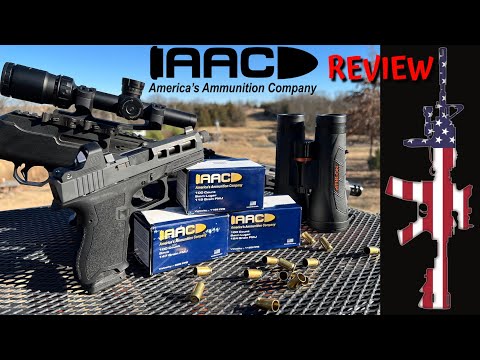 I shot some of this stuff on my last range visit 2 weeks back. No issues with it. It even cycled the compensated guns with no trouble. Good stuff as far as I know from my experience. I'd get more, but with being a prime member for Targetsportsusa.com, I'm getting Blazer for under $14 a box with free shipping. This stuff at PSA is just a little more, especially with the added shipping. But a solid option nonetheless.
ditto, targetsportsusa has been a good deal for me
Wally World continues to have Federal .22 LR in stock. 335 round box for $21.16. Not a big fan of the store but every time I go there I continue to add to my .22 LR stash.
FJB
Most of their name brand 22lr is .06 to .07ppr.
Agreed… hate to buy there but with the amount I burn through and no shipping costs I always grab a few boxes.
Went there today. Checkout lines were too long but did get my current EDC sharpened.
In the Walmart in my area, long checkout lines are not a problem as you have to pay for ammunition in the Sporting Goods Department. What I do is grab what ever I went to the store for and to eliminate long checkout lines I pay for it along with the ammunition in the Sporting Goods Department where there are no checkout lines.
FJB
Got my 1st crate from ammo squared coming. Anyone else still using them?
Latest pricing graph.
308 continues to be unpredictable with steel suddenly becoming scarce & being more than brass. In searching .308 & 7.62 X 51 usually I'll see the top of the lists (ie: cheapest) populated with 8-10 steel choices before the brass starts showing up with about a 50/50 ratio of availability, now there are only two vendors offering steel. Never would have thought that Tula 308 would be a commodity! lol
22LR now seeing .5 pr & a slight increase on most rifle & shotgun calibers.
I checked them out. It appeared that you don't know which brand you would receive. Is that a correct assumption?
That is correct. Seems their business model is to buy in bulk to fill orders. Probably from ammoseek or someplace.
@LesgoBrandon What brand, caliber, grain, price-per-round did you receive? Basically, do you recommend them?
@TexasEskimo
223 PMC Bronze 55g
5.56 X-Tac 55g
9mm PMC Bronze 115g
9mm Blazer 115g
357 Magnum Fort Scott Munitions 125g
9mm Speer Gold Dot +P 124g
357 Magnum PMC Bronze 158
223 Remington AccuTip 55
For the ball, 9mm is .34 cents each, and the 223/556 is .54 each. On average. They seem pretty average on the market price. I started it during the shortage, so my prices are all over the place. Seems normal now… it's free shipping once your crate gets above 250$ value. You can throw whatever amount a month to go towards it. And you can send people ammo as well… pay someone back for lunch with ammo… heh. It's something to set and forget, and ship every now and then… at least for me.
Looks like a good price on short range .22LR. G1, BC 0.127, 38gr, 1280fps - gets past 50yds before going subsonic. My experience with Aquila has been good but I was shooting their lower velocity stuff looking for 100yd groups - my notes say: "worth another try…"
No experience with Primary Arms yet.
Aguila Super Extra .22 LR Copper Plated 38gr Hollow Point - Box of 500 $32.99 $0.66/rnd