That's mighty gangsta of him. Better than him trying to take out someone with an AR15 using his skateboard.
Did you scroll down and read the description and disclaimer?

yep i did. nothin but love













the rest of the gang…
https://www.torrestargets.com/targets/photo-shooting-targets/politically-incorrect-targets/
they even got beetlejuice!!!
Collect them all!!!

Not entirely homemade, but one of the self-healing targets (around $10-15) suspended in a collapsible wood frame gives gratifying feedback and lasts a long time. They also can be used on the ground where they move with each shot. Mine have been hit with .556 and 45 caliber rounds with little damage.
We use to shoot clay discs with .22. It was fun seeing them shatter. Then we got the idea to try to shoot them from a launcher that was throwing them 2-3 feet above the ground. Man that was a lot of fun. Had as heck to hit with a .22 but it made you feel good when you would hit a string of them.
matchsticks on fenceposts. try to friction light the match without hitting it. sorta like "barkin" squirrels…
Dan at Guns and Guitars always has some great hacks, builds, and reviews. This is his DIY targets and stands…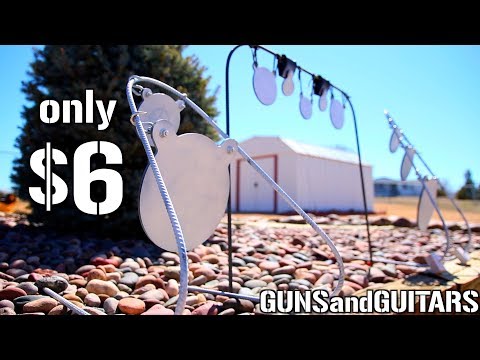 Have done the same thing but I use potatoes, small melons, etc.
That can get a might bit expensive if they are attached to the big ticket upgrade parts - not cheap by a "long shot"

I like to glue pool cue chalk to a board and shoot em with my 22. When hit they make a nice visible puff of color
you would be surprised at the number of people that have poked fun at me over suggesting that brother. said it couldn't be done.
surprises me with that rig, it took him 2 shots. should be able to cut the center of a target out with a single daisy chain with that one.
we used to strike em with old 22 rifles with a v notch sight…
Taking a tip from Hickok45, bulk cheap soda in cans makes a nice plinking target with hits being obvious. That assumes ants and other crawlies will not be a problem where you are shooting.