The most important part of this good video are the banners that tell you to obey ALL local laws regarding carry. These laws vary from state to state and, sometimes, from city to city within a state. That being said, I like the idea of a shoulder holster, or perhaps a 'tactical' vest that allows for the same quick and easy access.
@hrfunk
That was a nice little vid Howard…


You brought up a great point about concealment and clothing to prevent disruption or concern by the public.
I carry my side arm (full size .40 usually) on my belt, so I wear a vest similar to the one you are wearing, or a long military type shirt. Not so much to completely hide it, but to keep most from casually noticing it.
I would be curious to know what other apparel you and others wear for that purpose, when it's summer/hot and a coat isn't appropriate.
To add 2 more things to the discussion. Even bullet types in one state are illegal to carry in another, never forget magazine capacity either. Illegal magazine capacity also means it doesn't have to be in the firearm but in your possession !
Thanks guys! That's precisely why I put those banners up twice. I don't want anyone to run afoul of the law because of anything they heard me say.
Howard
@hrfunk Is it a little awkward to use a shoulder holster, cover garment, and a vehicle seat/shoulder belt?
Not really. The belt usually passes well above the holster. I have not noticed it causing a problem.
Howard
@Don68 That was a good question.

I hadn't thought about that.
I have a belt holster that works surprisingly well with consoles, seat belts, etc, without being tangled up, in the way, or uncomfortable, but I have considered switching to a shoulder holster.
Nice ride! Happy birthday.
If you watch close at the beginning of the video, you'll notice my seatbelt is still fastened when I remove my pistol from the holster. It really doesn't hinder my draw.
Howard
@hrfunk Do you use a vertical or horizontal shoulder holster?
Good video. In the summer with limited clothing presents challenges for carrying while driving.
Living on a sailboat for 13 years presented similar issues/conditions for preparing arms for uninvited approaching vessels ranging from small to large…and usually wearing minimal clothes down south.
Nice vette…Sounds like your brakes aren't fully bedded in.

Vertical most of the time. I do have an "upside down" model for my 2" J-frames.
Howard
I've had those darn brakes checked twice. There is reportedly no problem with them. Just sometimes they squeak and other times (actually most of the time) they don't.
Howard
Copper anti-sieze slathered on backing plate of pads -back and edges. The copper stuff takes the heat, sticks around and stops squeals better than any other treatment I've tried.
I used to turn wrenches at a BMW shop in exchange for a key to the shop and after hours lift access. This was one of the things I learned. Was a poor grad student with a track car.
Thanks, I'll give that a try!
Howard
Speaking from experience…this works… CRC DISC BRAKE QUIET
Applied properly…ALL car parts stores carry it for a reason…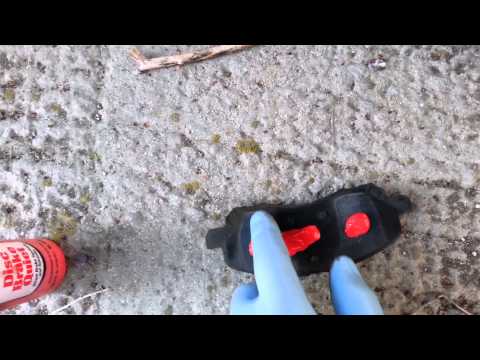 Try this procedure to "Bed-In" the brakes properly first:
Thanks for the helpful video, Howard.
Hope you enjoy your birthday gift (and happy belated birthday to you!) for many years to come.
Depends on the state. In Maryland you cannot buy, trade, rent or transfer a magazine that holds more than 10 rounds, but you can possess them. Go into Virginia or Pennsylvania, buy what you want and return to Maryland and Voila!
That's what I keep saying ,the rules can vary greatly from state to state. Pay attention BEFORE you go in another state not when your pulled over by LEO. It's to late ! I know I lived & worked in Pa. for several years for the State of Pa. The only thing I like in or about Md. is my brother-in -law.