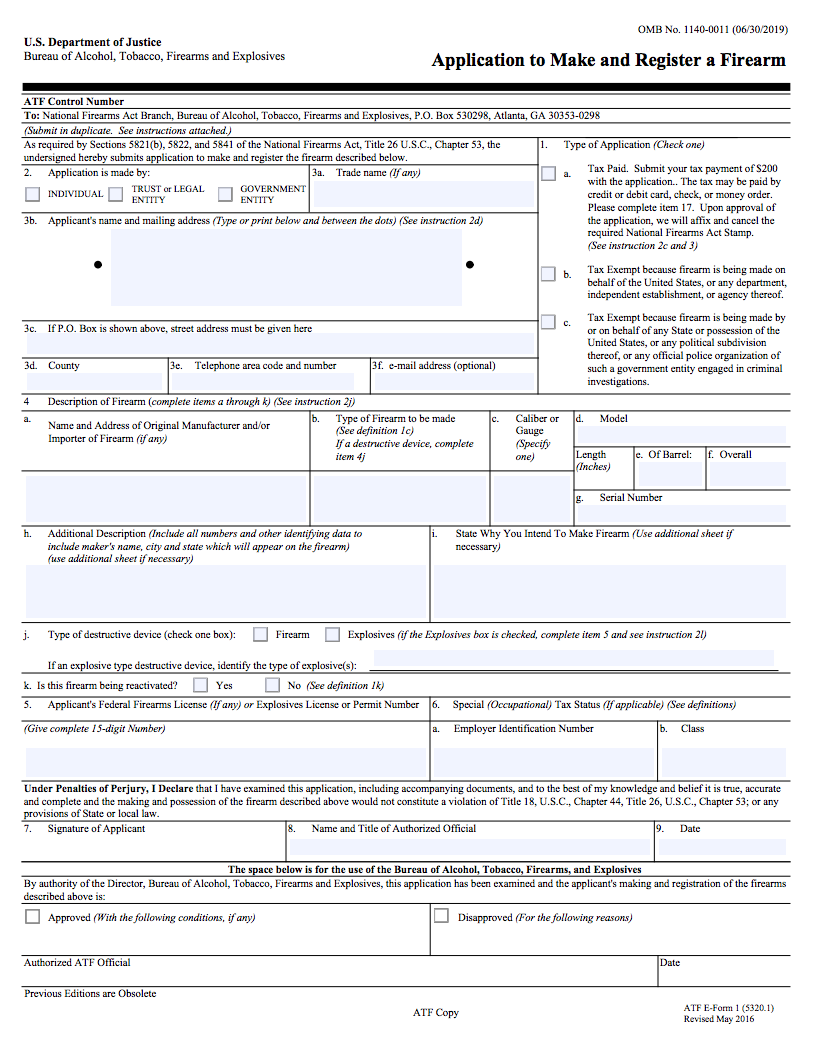 Here's what I know. These are the fields I've filled in.
I'm filing as an individual. Personal info is excluded.
1:a ✓ Tax Paid.
2 ✓ Individual
3:b Legal Name and Address
3:d County
3:e Phone Number
3:f Email Address
4:a Name and Address of Manufacturer
4:b Type of Firearm being made, (SHORT-BARRELED RIFLE)
4:c Caliber, (7.62 x 25)
4:d Model Number (PPS43-C)
4:e Barrel Length (9.8 INCHES)
4:f Overall Length (24.2 INCHES)
4:g Serial Number
4:i Why? (ALL LAWFUL PURPOSES)
4:k Reactivated? ✓ No
7 Signature
9 Date
11:a-h ✓ No
12 Passport Photo
13 SSN and DOB
14:a Ethnicity ✓ Not Hispanic or Latino
14:b Race ✓ White
15:a Country of Citizenship ✓ United States of America
15:b State of Birth (FLORIDA)
15:c Country of Birth (UNITED STATES OF AMERICA)
15:d-f.1 ✓ No
15:f.2 ✓ N/A
17 UPIN? ✓ No
20 Payment Info
Are there any other fields I need to complete?
I'm unsure about 4:h and 8. Should these be blank?
I think as an individual, 18 and 19 should be blank.
There are two more sections that are copies of the ATF Copy.
One is to be sent in and returned to the applicant, I think.
The other is to be sent to applicants local law enforcement.
Is all of this correct? Is there more that needs to be done?
One more question. The overall length is with the stock folded.
Should this be estimated with the stock unfolded?